The Story: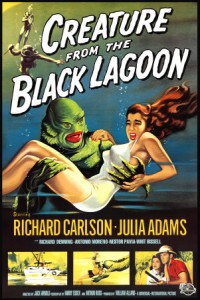 A team of scientists in search of fossils along the Amazon River discover more than they bargained for when they enter the Black Lagoon; home of the legendary prehistoric Gill-Man. After breaking free from the scientist's restraints, the creature returns to kidnap Kay the female on the expedition with whom he has fallen in love.
The Characters:
This is the first Universal Monster movie I have seen where the 'Monster' plays a somewhat small role. The scientists are in a bit of a love triangle, with one member of the team constantly pursuing the love of his partners fiance. The Creature is docile until provoked, and comes across more a protector of himself and Kay than the mindless beast they believe him to be. Actor Ricou Browning brought a graceful nature to the creature when under water that still looks fantastic to this day.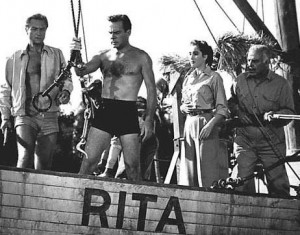 Effects/Gore: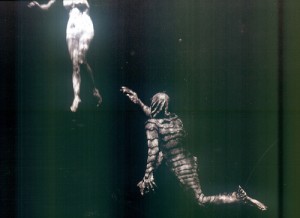 We get the Creature manhandling his victims by the face. After 50+ years the creaure's costume effects still hold strong.
Lasting Appeal:
They didn't use the creature nearly enough, causing the movie to drag a lot in places. Nobody watches creature features to watch a soap opera love triangle unfold, but that's about all the flick offered on the human end of things.
Final Headcount:
Creature From the Black Lagoon is worth seeing once for the amazing effects and iconic images of the Gill-Man. I'm hoping the sequels that come in the Legacy Collection will float my boat, because when the creature was absent this one sunk it.