The Story:
Bruce Lee, John Saxon, and Jim Kelly star as martial artists who are given invitations to a tournament on a reclusive island that doubles as both training facility and opium production line for the evil Mr. Han.
The Characters:
The three main characters all have ulterior motives for entering the tournament. Lee enters to uncover the secret surrounding his sister's suicide, Saxon is running from mafia debt collectors, and Kelly is on the run from a force of racist police whom he dispatched before stealing their car to escape. All three actors were chosen perfectly for their roles and have great chemistry amongst eachother. Mr. Han is a one-handed Bond-villain reject with interchangeable weapons he can attach to his stump. Kien Shih plays the over-the-top role of Han like a pro.
Effects/Gore:
Does Bruce Lee count as an effect? This is the first time I had the privilege of watching the legend in action, and I definitely understand the hype now. As for gore, we get treated to bloody beatings, and knife slash wounds.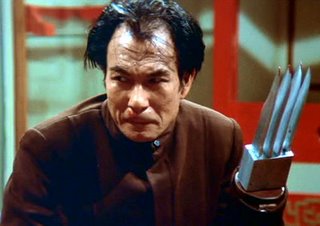 Lasting Appeal:
Everything about the movie was great, from the story to Bruce Lee's unmatched fighting style. I watched it on T.V. so unfortunately I didn't get to see the extended cut that's available on DVD. It will be interesting to see if the extended cut helps or hinders the movie as everything felt spot-on in this version.
Final Headcount:
I was blown away by this movie. It's part James Bond, part kung-fu, and 100% Bad Ass. You have the Black Samurai Jim Kelly, Nightmare on Elm Street's John Saxon, and The Dragon Bruce Lee all fighting for their lives in a super villain's utopia. What more could you ask for?